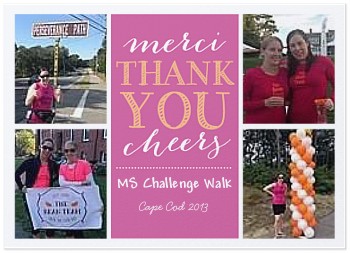 To anyone who donated, called, send text, tweets, emails and facebook messages I thank you! I may be the one who actually walked the 50 miles but all of you made it possible for me to do so.
Without your donations I wouldn't have been able to raise the required $1,500 to participate. Not only did I raise the minimum but thanks to all of you I raised $2,510! Amazing!!!
Your support meant so much to me as I was walking each day. Thanks for reaching out and sending messages. It pushed me to keep walking!
An extra special thank you to my donors who continue to donate each and every year. I have now been fundraising for MS for 5 years. Each year I ask all of you and each year MANY of you donate again. That is incredible. I just want you to know that I do recognize your contributions and it means SO much to me. More than you will ever understand!
Thank You! So very much!
P.S. Above is the thank you note I mailed to my donors. I made it on Shutterfly and I am really happy with how it came out!