Last night I went to a
Boston Bloggers
event at
The Sinclair
in Cambridge. I've been to several events now and it is always fun to meet new bloggers and to catch up with others I've met in the past.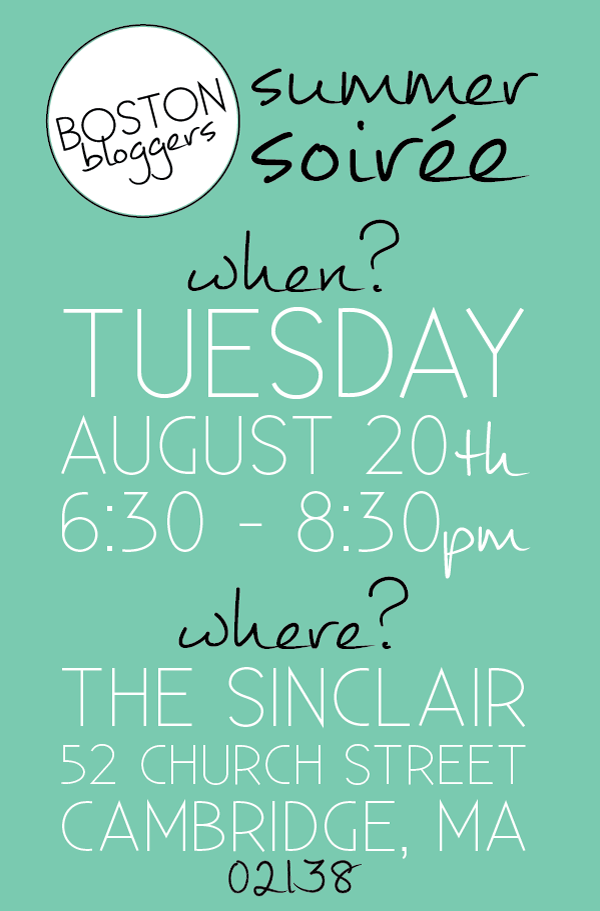 I had never been to The Sinclair before. It was a cool space. I had the most delicious Blood Orange Sangria. Most of you know my LOVE for sangria and this did not disappoint! Yum!
Alison
and
Kate
always make us the cutest name tags and blog "directory."
Before the crowds arrive. . .
I finally got to meet
Kate
and
Emily
in person. Kate and I have been following each other's blogs and chatting on twitter and email for months so it was nice to finally meet in person. Emily just moved to Boston and is a riot. I had so much fun chatting with her! Oh and they both like country music so I'm trying to convince them to get last minute tickets to Kenny with me!!! (Pleaseeeeeeee?!)
Always great to see
Georgina
. I love her green dress. Great color!
Courtney
, who I've met before, is recently back from a month long cross country trip. It was great catching up with her and hearing more about her adventure. I can't wait to read more about it on her blog!
I also got to meet a few other wonderful ladies who I didn't get a picture with this time. I think we need an official photographer at our events to take all the pictures b/c we are all too busy talking!
Last week I got together with a few lovely bloggers to toast
Abby
before she set off on her cross country journey to move to San Diego. We enjoyed some delicious sangria (of course) at
Tory Row
also in Cambridge!
I met Abby at the very first Boston Blogger event I went to! We were both so nervous and talked most of the night. I'm going to miss her but now I have someone else to visit when I go to CA!
We had such a nice time talking and laughing! Abby is currently driving cross country with her boyfriend and his father and soon she will be in sunny SoCal. Follow her blog to read more about her adventure!
Never in a million years did I think I would meet such great girls when I started this blog. Blogging is such a fun hobby for me and I'm so grateful for the friendships, inspiration, support and social events!!
Boston Bloggers is now on twitter and instagram so follow along @BosBloggers and you can also find tweets and IG pics by search for #BostonBloggers.