Ladies, I don't know about you but for me this weekend wasn't all about the Superbowl. . .
not when you have the Burrito Bowl and the Puppy Bowl!
On Saturday I went to Boston's 3rd Annual
Burrito Bowl
at Poe's Kitchen at the
Rattlesnake with
Jen
and
Kerrie
.
We tasted seven different "burritos" each to go along with a city/football team.
They were all good but my favorite was the Seattle Seahawk's fried guacamole by Andy Husband's Tremont 647. Why didn't anyone think of this soon? Fried guacamole!? Yum! Many others agreed b/c it actually won for the "People's Choice."
The "Judge's Choice" went to Boloco which was my second favorite of the day.
All the participants got to vote - Jen and I voted for Tremont 647 and Kerrie voted for Boloco. I'd say we have pretty good taste!
For me the Superbowl is all about the food so this was a great way to start out the weekend!
Saturday afternoon I made a quick trip to the Wrentham outlets. I only went in one store - my usual - The Loft Outlet. I always do so well there that I can't afford don't need to go in any other stores. More on what I bought later this week.
On the drive home I may have gambled a bit too much. . . just in case you ever wondered if you could make it from Wrentham to Newton with your low fuel light on. . . the answer is NO! I actually ran out of gas. I'm such an idiot. I was literally less than 1/2 a mile from the gas station. Thank God for AAA+ who was there in 15 minutes with gas! From now on I'll pay attention to that low fuel light!!!!!!
On Sunday I went out to brunch with my friend Joana. I was so hungry that I forgot to take a picture of my food. I got chocolate chip pancakes and they were delicious. I've been craving them for weeks! We had a nice time and caught each other up on all the gossip.
After that I was right by Sephora so I just had to stop in. I really needed a new blush so I picked up a new to me one by Nars. I'm really excited to try it out!
After that I had a much needed manicure and pedicure. I totally forgot to look at the name of the color. It was an OPI one. The color looks better in person.
Oh and I got this Stella and Dot ring for 1/2 price from my cousin who is a consultant! Got to love a deal like that.
The rest of the afternoon/evening was spent watching the Puppy Bowl and reading Gone Girl.
Now I get that they are trying to promote adoption but two hours of this silliness?! Seriously! I'm a dog lover person and LOVE puppies but even I can't watch two hours of wrestling pups! The announcer kills me - he keeps such a serious tone of voice the whole time! And the ref. . . don't even get me started!
No Gone Girl spoilers please. I've only just started reading it. Liking it so far.
How was your weekend?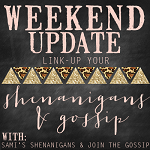 P.S. In case you missed it late in the day on Friday I blogged about the time I went to Romania.
Check it out
here
.