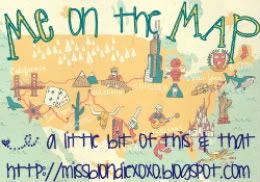 I thought this was a really fun idea b/c I'm always wondering where other bloggers live. So I'm participating in Me On The Map over at Michelle's blog
a little bit of this & that
.
I live in Brighton which is part of the city of Boston. Brighton is nice b/c it has all the advantages of being in the city while still having the feeling of a town!
The area of Brighton was established in the late 17th century and was first known as "Little Cambridge". The residents acquired legal separation from Cambridge in 1807 and officially named the town Brighton. The town was then officially annexed to the City of Boston in 1874 and it remains a part of Boston today.
Here are some of my favorite spots in Boston. . .
FENWAY PARK
PUBLIC GARDENS


BEACON HILL
BOSTON SKYLINE
I love that we have seasons (I just wish the winters were MUCH shorter and the other three seasons longer). I love going to Cape Cod in the summer, apple picking in the fall, taking walks around the city in the spring. . . can't think of much I like doing outside in the winter. . .
I love living in Boston. I'm sure at some point I'll move to the suburbs but for now I enjoy being central to so many things. I'll close to great restaurants, bars, shopping, museums, hospitals, etc. Speaking of hospitals I live literally 2 minutes from the hospital where I go for all MS related appointments. I feel so fortunate to have such an amazing MS Center so close to where I live!
So have you been to Boston? What do you like about it?